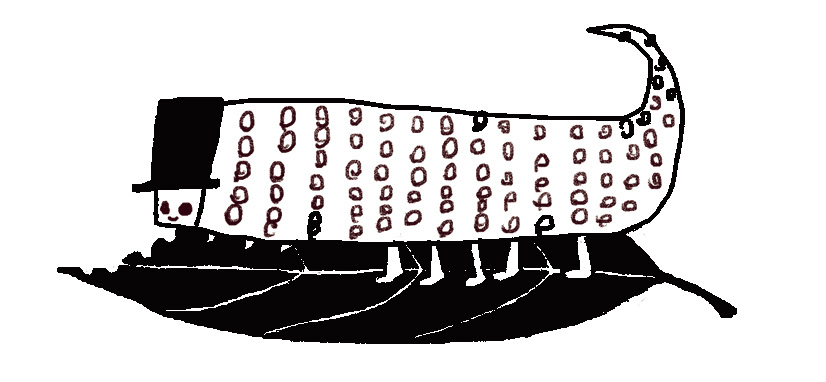 桃山鈴子 ももやますずこ
東京生まれ。家の周りの樹木や草むらで出会う季節ごとの虫たちを飼育しながら描いています。初めての飼育はオオスカシバで小学校3年生の時でした。生物学の授業で教わった顕微鏡を使った観察スケッチが私の絵の原点となっています。画材はアルシュという紙にペンを使ってインクで描いています。幼い頃から特にイモムシに魅了されています。
受賞歴
HB ギャラリーファイルコンペ vol.29藤枝リュウジ賞 
Gallery House MAYA 装画コンペvol.19準グランプリ
Society of Illustrators - Illustrators 62 入選
わたしのイモムシ画  〜 イモムシ中心型生活
イモムシの体は円柱形です。連続した美しい模様の流れが、体をぐるりと覆っています。一つの画面で、その模様を途切れることなく観ることが出来たら、どんなに美しいだろうと考えた結果、虎の皮の敷物やサンマの開きのような展開図に辿り着きました。しかし、実際に虫を開いて描いているわけではありません。生きているイモムシたちを色々な角度から観察し、平面上でイメージをつなげながら制作しています。
イモムシは、脱皮を繰り返して大きくなりますが、脱皮前にじっと動かなくなります。その時が絵を描くチャンスです。いつ脱皮するかは、長く観察していると感覚的に分かってくるので、イモムシの時間に自分の時間を合わせて描いています。イモムシ中心型の生活が絵の基盤です。
Suzuko Momoyama
I am a painter, an Illustrator and an insect enthusiast. I was born in Tokyo, Japan, spent my childhood in the countryside of NY. I draw insects that I feed, which I originally find seasonally on trees and in bushes around my house. My first experience feeding caterpillars was when I was 9 years old and they were Coffee bee hawkmoths. My starting point was the sketching using microscope which I learned in biology class when I was a student in Agriculture. Pencils, inks and pens are my tools. I use Arches paper. I especially love caterpillars very much!
HB Gallery File Competition vol.29  Grand Prize  
Gallery House MAYA Book cover Competition vol.19 Second Prize 
Society of Illustrators New York - Illustrators 62 selected
My caterpillar drawings 〜 A life centered around Caterpillars.
A caterpillar's body is cylinder shaped. Beautiful flows of designs cover the body all around.
I thought it would be spectacular if we could see all  its designs continuously on one flat surface. That's why I came up with this idea of drawing caterpillars like rugs of tiger skins.
But please be reassured that I never cut the caterpillars open. I just observe them  from multiple different angles, and connect the images on paper.
By the way, caterpillars stop moving sometimes for a period of 24-hours or so, just before shedding their skin. If you observe them for a long time, you can predict the timing of shedding, and I am  always careful not to miss this great opportunity for drawing.  I always adjust my time to the caterpillars'. My life circles around caterpillars indeed.